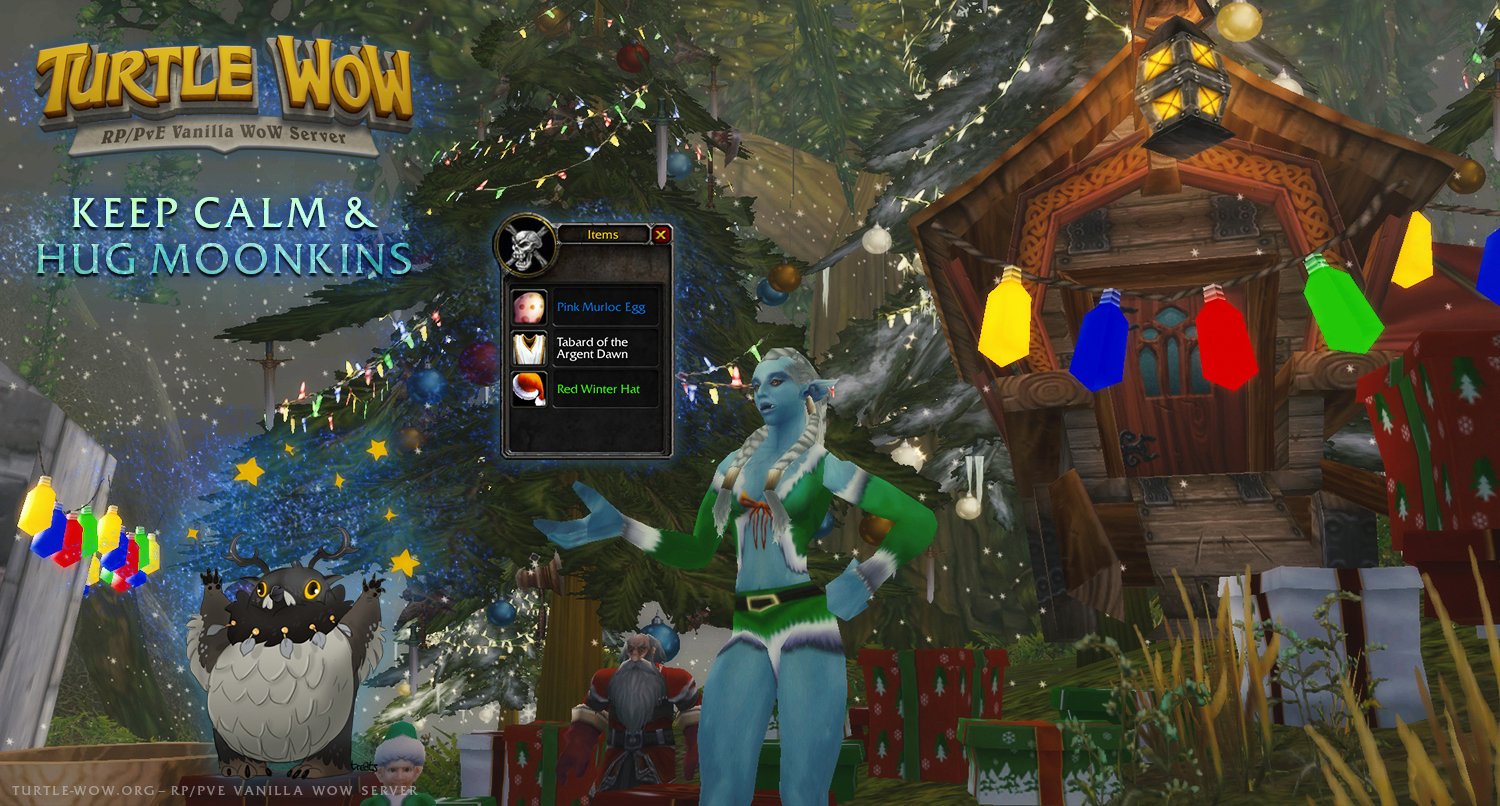 Greetings!
The Feast of Winter Veil is upon us, and Greatfather Winter is busy spreading holiday cheer in major cities across the land! This means it's almost the end of another year. Take some time this holiday to reflect, and remember why we fight the good fight, for our family and friends.
The Turtle WoW Staff would like to wish you all a sloooowww, steady, and safe holiday season. Thanks to all our Turtle friends for your continued support, we have enjoyed working with you to create a unique WoW experience. May your feast of Great-Winter be one merry and bright.
Keep Calm & Hug Moonkins
However, we need your help! While we were getting ready for the Winter Veil Party on GM Island (some of us were already testing the eggnog), lots of small grumpy Moonkins left their warm cozy shelters and made a sneaky heist on all the Winter Veil presents we stored in our secret location. Catch them all and help us collect the lost gift boxes! Don't harm the little Moonkin or be /rude to them. The best thing you can do is greet them with a /hug!
Give Gifts!
For 30 Turtle Tokens, in the Turtle Shop, you can buy [Turtle WoW Winter Veil Present], a non-soulbound present which you can gift to your friends! This Present will contain 3 items: adorable winter clothes, one random tabard and one random pet from the Turtle Shop: https://forum.turtle-wow.org/viewtopic.php?f=2&t=132
[Turtle WoW Winter Veil Present] has no expiration date, but will not be available for purchasing after the end of the event.
Feast of Winter's Veil Changelog:
Event will run till the end of January.
Fixed some known bugs, produced even more!
Happy New Year *.*