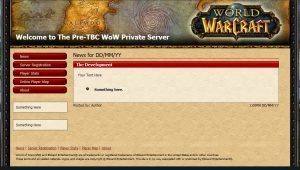 Finding a decent quality repack to use for your WoW private server can be a challenge, there's a large variety of options for every expansion from a multitude of sites and to be honest, most of them aren't worth the time it takes to unpack them. With that in mind we've put together this list with a few options for each expansion to help people find a decent quality and functional repack to use for setting up a personal or LAN based private server.
For all of these don't forget to set your realmlist to: set realmlist 127.0.0.1
Your realmlist file location will vary by expansion pack, for example:
Vanilla, TBC: \World of Wacraft\realmlist.wtf
WotLK, Cata: \World of Warcraft\Data\enUS\realmlist.wtf
There are some default logins for the Vanilla, TBC, and WotLK repacks with the passwords being the same as the usernames, these are:
administrator, gamemaster, moderator, player, admin
Credits
I strongly recommend that anyone that uses one of the repacks go to the original provider listed below and say thanks for their hard work!
The Vanilla, TBC, and WotLK repacks were created by othman at ac-web.org, all credit to him for doing a fantastic job! You can find the original thread for the releases here.
The Cataclysm repack was done by ExO, the administrator at Emucoach and it's their official repack, all credit to them for doing a fantastic job! You can find the original thread here.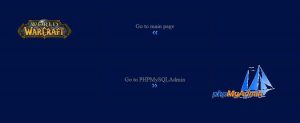 These funserver repack contains a basic website with registration page and an easy to launch setup with Apache, PHP, and MySQL bundled. To start you need to extract either the blizzlike or funserver repack to the folder of your choice, extract the maps, vmaps, and dbc directories directly into the folder. The folder structure for the vmaps for example would be C:\Repack\vmaps.
Next you click start.bat which is going to show the cmd window for a moment before it closes, and then your browser will open with an option to go to the basic website or phpMyAdmin. Next start realmd.exe and once that's loaded start mangosd.exe. Now you're running!
Burning Crusade Repacks – Patch 2.4.3
WotLK Repacks – Patch 3.3.5a
Cataclysm Repacks – Patch 4.3.4
If you want to make this repack publicly accessible instead of local or LAN only please visit the official thread on EmuCoach and register to view their tutorials. They also offer a custom launcher and more help documentation.
You can also join the Discord at https://discord.gg/jSNDcje