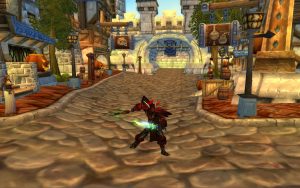 Vanilla WoW Guides
Guide Type: Classes
Class: Rogue
Here's a handy guide for Vanilla WoW enchantments for Rogues at level 60, although you can also use this guide for twink rogue characters. As note the source is added for enchants [E] – Enchanter or Engineer (only in scopes) player character (if he has recipe), or [Q] – quest of some kind.
Head
Shoulders
Back
Chest
Wrist
Hands
Legs
Boots
1 Handed Weapon
Ranged Weapon
All together for current best enchantments you can get +78 attack power, +2% dodge, +4 stamina, +51 agility, +4 intellect, +4 spirit, +13 strength and +7 ranged damage.
All those enchants require fallowing materials: Primal Hakkari Idol x2, Punctured Voodoo Doll x2, Zandalar Honor Token x15, Lesser Nether Essence x2, Large Brilliant Shard x4, Illusion Dust x24, Greater Eternal Essence x24, Lesser Eternal Essence x3 without weapon enchantments.