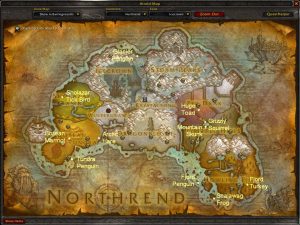 WotLK Guides
Guide Type: Achievements
To All The Squirrels Who Shared My Life is a follow up to the Achievement To All The Squirrels I've Loved Before. It is worth 10 Achievement Points. Many of the critters are very small and tough to target or hard to see so the macros are very useful.
/target Borean Marmot (change for critters as needed)
/love
Below is a map of Northrend that shows the general location of each critter. Only one critter requires you to travel to the mainland, the Lava Crab, which is located in Burning Steppes or Searing Gorge. For anyone below 70+ you'd better plan on having a warlock to summon you to each area!
Here are a couple of hints:
The Tick Bird perches on the horns of the rhinos in Sholazar
The Lava Crab can be found near pools of lava in Burning Steppes or Searing Gorge
The Marmot is camouflaged since he is the same color as the grass in Borean
The Huge Toad can also be found in Swamp of Sorrows