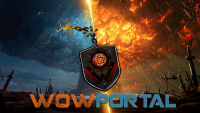 Visit Website
Community

16

Scripting

16

Population

16
Realmlist: set realmlist logon.wowportal.net
Discord: https://discord.gg/vBXZcHW
Realm Description

🔸SOULFORGE PVE SERVER – NOW ON EUROPEAN HOST!🔸
Our Motto is "No Stress" , "No Problem"
WoWPortal is a server for those who simply does not have countless hours to invest playing the game, those who work full time or those who simply wish to progress and play at their own pace without any stress or pressure.
Some people have a lot of time to invest to gaming, progression, guild schedules but what about others? What if you work full time? What if you are in school and work part time? Only have few hours to play a day / week but still want to experience World of Warcraft, as it is by far the best game ever made!!! Well look no further! We are the Server you are looking for!
WoWPortal Server allows you to learn how to play World of Warcraft, where you can play your favorite expansion, stress free, at your own pace!  WoWPortal was designed for that specific reason, we wanted to provide players with a "No Stress" environment, a server where players can enjoy the game, level and raid at their own pace. We give our players an opportunity to play the game away they want! Choose how you wish to level and how you wish to raid & do dungeons, make your own schedules, make your own rules, take advantage of our Dynamic XP System and Flex Raiding, an opportunity to select your own rates, go through content by yourself or with your friends ( maybe a girlfriend 🙂 )
We offer flexible XP/Loot Rates, Soulforge Realm rates are x3 and Professions Rates are x5.. However you can choose to play at your own pace, choose x1 Hero Mode and get a Custom Title when you reach 80. Every hour you spend online you get rewarded with Activity Tokens, which can be spent on Instance Resets, Character Services, Currency Exchange and much more.
On our Server, you can use Dungeon Finder in Solo Mode as well, you will get rewards from using the system and doing your Heroic Dungeons. Before you do join a Dungeon Finder, you can grab custom daily quests made for every single dungeon and raid. There is so much to do, you will never get bored.
All of our Raids/Dungeons are scripted with over 1000+ commits to make sure everything on our server functions correctly, without any bugs or glitches and will allow you to experience the game as it should be. For example: Our Ulduar works 100% with all Vehicle Mechanics and Hard Mode & our ICC Raid is polished so you and your friends can raid without any fear of bugs, all encounters function correctly, all ICC Quests including Blood Infusion works 100% Blizzlike.
Let's talk about quests, we have a dedicated team of developers that are assigned only to quests, that's right, we pay attention to our quests just as much, we want to make sure that your experience on our server is unforgettable and to make sure as you level your character, your progress is not interrupted by a broken quest or mechanic, we want to make sure that your leveling experience is without issues!
We spend countless hours every day to perfect this world we created for you! Our Dungeons and Raids work flawlessly, we have minimal issues with quests and game mechanics, all spells work without issues, even complex spells like "Dancing Rune Weapon" works on our server. We are here to make sure that your experience and game play is up to your standards and it's our job to make sure each player goes through our content without any issues! We love what we do and we would love to share it with you!
Our Server is 100% Crossfaction, that includes Auction House, Guilds, Raids, Battlegrounds and most importantly Crossfaction Support for Encounters like ICC Gunship and more.
Once you create your character and login, you will be greeted by Player Information NPC which will get your started, provide you with information you need, breakdown of our systems and features, leveling rewards, currencies, how to have a smooth start and overall , provide information on our server. Any question you might have, Player Information NPC will have your answer.
The possibilities are endless!!
WoWPortal uses a custom, privately developed Core/Emulator "Paradox-Emu" and been in development since 2017, with over 6.500 commits and fixes that originate from our paid developers. Stability and functionality is our top priority, you will notice that our server uptime ranges between 3 days to a week without crashes. We use an integrated Bugtracker which is available to our players to use and report issues they find and our job is to fix them with haste! All issues reported are addressed with high priority.
Our Infrastructure:
Processor: Intel Xeon Silver 4110 – 8 c / 16 t – 2.1 GHz / 3 GHz
Memory: 96GB
Storage: 2×6TB HDD SAS
Public bandwidth: 1 Gbps
The vRack Multi-datacenter VLAN
The vRack functions between Europe to USA
Anti-DDoS protection To guarantee maximum security for your infrastructures,
Anti-DDoS system ensures service continuity for our server, in the event of an attack.
Website VPN SP // Web Firewall
WoWPortal News