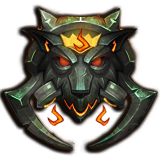 Visit Website
Community

9

Scripting

9

Population

9

Average
Rates
Custom Rates x7-x12
Realmlist: set realmlist logon.vcnwow.net
Discord: https://discord.gg/CuEXqzq
Realm Description

Vengeful-WoW | Wrath of The Lich King | PVE Highrate ~ Funserver.
We are a very unique Server with a vision to provide our players with the Most Unique & Eccentric WoW Experience.. 
With a 99.5% uptime and no crashes, we strive for perfection! our target is to give you the most unique PVE Funserver/WotLK Experience Ever!
We are a fast growing community and we welcome players from all countries and ages, we come up with a totally unique server concept among private servers, where our players are welcomed and encouraged to get involved with the server development and new features discussions.
Once you start playing on Vengeful-WoW Server, you will have access to Heirlooms, Free 60% Custom Mount at level 1, open chat between factions, working quests, custom XP System, Activity Tokens Reward System and our unique Event & Transmog Systems and much more.
We also provide in-game Character Services (race, name and faction change), mount or vanity items Item Store.
As a PVE Funserver, we will offer you a Funserver Environment that has features and flow of a Blizzard realm. Having said that, we will also bring you unique features, systems and events that will ameliorate your game experience without breaking its original mechanics or class balances.
We also offer a very unique Transmog System which consists of Transmog Items from other Expansions such as: BFA, MOP, Legion, Mythic, Artifacts, Diablo Custom Wings.
Our Rates:
– Players have access to change their XP rates and Loot Rates with a simple command and at any time you can stop your XP Rate.
– Upon each login your XP/Loot Rates are displayed on your screen so you know at which rate you are currently on.
– XP Rates on our PVE Realm are as follows:
XP Rates = x0-x12
Loot Rates ~ x0-x7
Gold Rates ~ x5
Professions ~ x15
Gathering, Mining, Fishing ~ x7
Quests ~ x7
On our Realm you also have access to many Custom Scripts & Features:
Information NPC
Vengeful Tree
Teleport NPC (main cities only)
Weapon & Class Trainers 1 NPC
Activity Tokens System
Custom Player Commands
Leveling Rewards
Exchange System
Character Services NPC
Super Transmog System Legion, MOP, BFA, All Tiers, Artifacts, Mythic.
Diablo Wings
Custom Arena Brackets [Solo-Q 1v1 & Solo-Q 3v3]
Ingame Arena Stats and Arena Spectate
Bounty Hunter System
Challenge Mode Command
Custom Chat System
Vengeful-WoW Custom Rates | PVE Server News