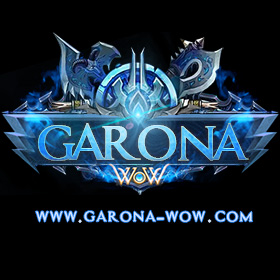 Visit Website
Community

0

Scripting

0

Population

0

Average
Realmlist: set realmlist logon.garona-wow.com
Discord: https://discord.gg/5jSkhf2
Realm Description

Garona WoW – Server Garona-WoW is a fresh Blizzlike server will be live on 13 November 2020, Our goal is to have fun and enjoy the game with no toxicity,we're ready to offer you the best Blizzlike private server you've ever played on! The server has an active and helpful GM and Dev Team with daily fixes that aim to bring the best Blizzlike experience to the players! There are plenty of custom Blizzlike features added such as:
* Crossfaction Dungeon Finder.
* Crossfaction Battlegrounds.
* Account-Bound Mounts ( all your collected mounts are available for your other characters if they've required riding skill).
* Transmog
* Arena Spectator ( to see high rank player live In-Game ).
* Mythic Dungeons.
* Guild Challenges.
* Personal loot in Raids (won't be available at server start).
* PvP Tournaments will real money Prizes.
Join us today! Discord server : https://discord.gg/5jSkhf2
Garona-WoW News