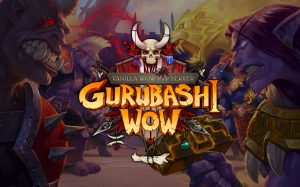 Visit Website
Community

7

Scripting

8

Population

9

Average
Realmlist: set realmlist logon.gurubashi.org
Discord: https://discord.gg/gNNKjT9
Realm Description

Taz'dingo, friends! Gurubashi WoW is aiming to create a stable and long-lasting Vanilla WoW PvP realm which focuses on building a community of people who value integrity, healthy competition, and fair play.
Features:
Blizzlike x1. We believe maintaining the original rates is preferable in Vanilla in order to create a long lasting project. Character attachment is important and the journey matters.
Progression. Our timeline is based in the original Vanilla WoW progression — something that Blizzard didn't implement in Classic. This timeline is an authentic and exciting way to experience the original game again.
To spice things up we're also carefully planning to add a few more PvP features:
Low Level Battlegrounds. We are adding two new Warsong Gulch brackets, level 1 and levels 2-9.
City Ranks. Every Wednesday, after the Honor Update, 8 players, one of each race, will be granted their corresponding City Protector title. City Protectors are allowed to teleport to their homeland with a cooldown of 60 minutes. This is an original Vanilla feature Blizzard wanted to introduce but ultimately discarded. You can find more information here.
Skirmish Arenas. We are working on the implementation of Skirmish Arenas. At this moment we are using Azshara Crater to create the arena map. You will only be able to earn honor doing these arenas, they will work just as a normal Battleground, but we don't discard adding an online ladder you will be able to check in our website.
Join our community: https://gurubashi.org | https://discord.gg/gNNKjT9
Gurubashi WoW News