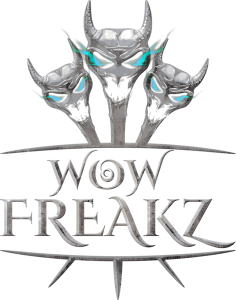 Visit Website
Community

1

Scripting

1

Population

1
Avg. Population
1000-2500
Shop
Vanity Items, Gear, Gold
Realmlist: eu.sl.wow-freakz.com
Discord: https://discord.gg/bMcqYdatVH
Realm Description

WoW Freakz is the best Shadowlands private server with thousands of online players, we continue to give you blizzlike content for more than 12 YEARS, proving our supremacy in World of Warcraft tops.

The difference between us and any other private server is simple: we listen to the community and do what's best for it. Bugs/problems are solved extremely professional, depending on their priority. Those with high/critical priority are usually solved in a matter of minutes/hours, thus players have the best gameplay all the time.
As you can see from our server fixes list, bugs are solved constantly, scripts get better every day, the server being in a continuous evolution.
General Information
We released Shadowlands directly on Patch 9.1.5 with content lock, meaning you can experience progressive content, starting with 9.0 season. See here our development plan for future content updates.
Gold = 1x
Reputation = 1x
Currencies = 1x
Items = 1x
XP in pre-Shadowlands Zones = 1.5x
XP in Shadowlands Zones = 1.5x
Content currently locked to: Season 1

Shadowlands Quality of Life

Stygia Catch-up for off-chars
Soul Ash server cap
Maw intro skip option
Mounts usable earlier in The Maw
Ghost form flight while dead in Shadowlands
Rated PvP Solo Queue
Vendor for Castle Nathria conduits
Dungeon teleports
Guaranteed BoE 190 ilvl item on completing all Mythic dungeons
Conduit Energy removed
Easy Covenant swap
Runecarving mats recycling
Unlocked Legion Allied Races
WoW Freakz – Shadowsong News