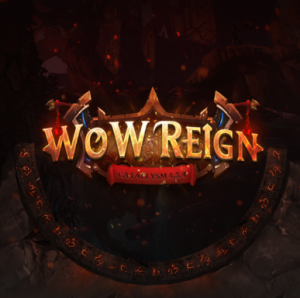 Visit Website
Community

3

Scripting

3

Population

3

Average
Realmlist: set realmlist cataclysm.wow-reign.com
Discord: https://discordapp.com/invite/AAfbCKE
Realm Description

WoW-Reign [4.3.4] Blizzlike Cataclysm Fresh Server
Hello there, the creators of WoW Mania would like to present you our new Cataclysm Server.
Official YouTube Trailer of WoW-Reign
WoW-Reign is a fresh Blizzlike server startet in spring 2019, but with few customizations that will make the game more active including a custom mall, custom events and many playtime rewards.
The server has an active and helpful GM and Dev Team with daily fixes that aim to bring the best blizzlike Cataclysm experience to the players!
We are one of the most active World of Warcraft Cataclysm Emulator server today.
No hype, no bull, just dedication and love for what we do.
We spend a lot of time and love to all details of the game and want to provide you a perfect game.
Some blizzlike features:
* All High End Rare Spawns fitting to our current patch 4.0.3.13277 are spawned with propper loot, pooling and pathing and are ready for the hunting. (Info https://www.mmo-champion.com/content/2120-Cataclysm-Rare-and-Rare-Elite-The-MMO-Report-Comics)
* Fixed blizzlike Goblin and Worgen Startzones (https://www.youtube.com/watch?v=GHALiuEBkVE&feature=share)
Bugtracker:
– We provide an active and well structured github repository where you can post all bugs. Trust us, we want to fix them as fast as possible.
– Currently we have already fixed 2691 Issues https://github.com/WoWManiaUK/Blackwing-Lair/issues?q=is%3Aissue+is%3Aclosed . In general there are not more than 800 issues open. Our devs try to fix as fast as possible.
– We have one developer who is experienced with dungeons and quests, one who gives all love to spells and talent mechanic and one for the server structures.
Uptime:
– The server now has an uptime of 99 percent, has a low diff of 29 ms (https://i.imgur.com/q7KD77d.png) (Downtime of ~ 5 minutes only takes place 1 or 2 times per week because of Bugfixes and Updates)
Media:
– Join us on Discord https://discordapp.com/invite/AAfbCKE (We already have over 1000 members on our Discord Server)
– Follow us on Facebook https://www.facebook.com/wowreign
WoW-Reign News