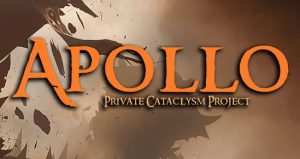 Visit Website
Community

7

Scripting

7

Population

7

Average
Avg. Population
1000-2500
Shop
Vanity Items, Characters
Realmlist: set realmlist login.apollo-wow.com
Discord: https://www.apollo-wow.com/discord/
Realm Description

Apollo II is an English speaking Cataclysm private server from the TwinStar group and is launched on January 19 2020
Officially moderated channels on Apollo are world, character auction, and global.
You are able to communicate in the first two in English, Czech, and Slovak languages.
Global channel is strictly English.
Using other languages than those allowed will lead to a mute.
Realmlist
Apollo has three separate realmlist addresses, depending upon which you choose you may have better latency.
set realmlist login.apollo-wow.com
#set realmlist login2.apollo-wow.com
#set realmlist login3.apollo-wow.com
set patchlist localhost
TwinStar – Apollo II News
TwinStar – Apollo II Services