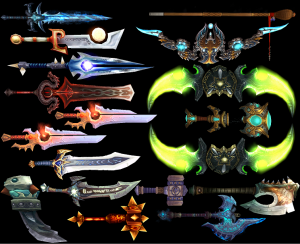 TBC Guides
Guide Type: Professions
Profession: Blacksmithing
This WoW Blacksmithing guide will show you the fastest and easiest way to get your Blacksmithing skill up from 1 to 375.
Blacksmithing is the best combined with Mining and I highly recommend to level Mining and Blacksmithing at the same time, because you will need a lot of gold, if you want to buy everything from AH. It will take a lot of dedication to get to the end and get those epic items. Also, like other crafting trades, the benefits only really start showing at the end, so this Blacksmithing guide will be a massive gold drain all the way up to 375.
At skill level 200 and character level 40, Blacksmiths can choose to specialize as an Armorsmith or a Weaponsmith. Weaponsmiths can later further specialize into Hammer-, Axe– or Swordsmiths. All specialized armor and weapons are Bind on Pickup and can only be used by the blacksmith that made them. Most specialization recipes require difficult components, such as Primal Mights, Primal Nethers, and Nether Vortexes. If you want to read more about Blacksmith specialization, please visit wowwiki.com.
Now there will be two part of the guide for 360-375. One with World drop recipes, which one is a lot cheaper and one with Scryer/Aldor recipes.
Aldor
Scryers
Guide With World Drop recipes