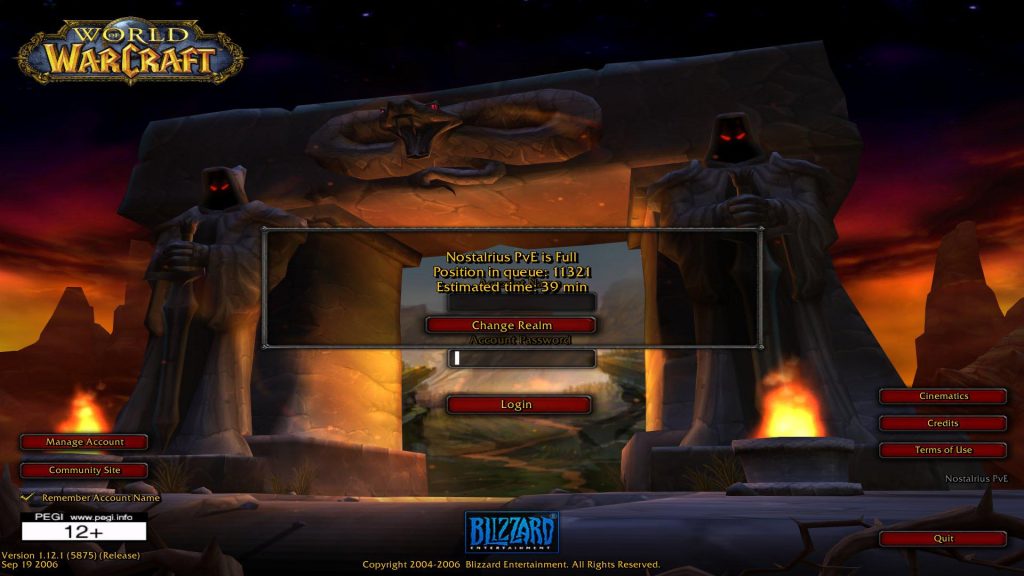 Looking to play some Vanilla WoW and need to find the most populated server out there? We have a whole database of private server information, so we decided to put together a short list of just the most populated realms available so you don't have to queue for 3 hours just to get in Alterac Valley. We've updated this list to be current in 2018!
Vanilla WoW Servers
Light's Hope
Lights Hope was started when in late 2017 a member of the Elysium staff stole the code and then destroyed the Elysium server files and relaunched the realms under the new name Lights Hope. Currently they have two realms online, with Northdale being the freshest server and having the highest population.
Elysium Project
Nighthaven is a blizzlike vanilla WoW server with fast paced progression. Opened after former team members sabotaged the old Elysium realms and website and formed Light's Hope, they started this fresh realm.
Burning Crusade Private Servers
Warmane – Outland
Warmane's newly released Outland Burning Crusade realm is by far the most populated server for TBC at this time, offering x5 rates and the following raids: Karazhan, Gruul's Lair, Magtheridon's Lair, Serpentshrine Cavern, and Tempest Keep. It runs a back-ported version of their code they developed for their WotLK realms and has a cash shop planned to be open soon as well.
ExcaliburWoW
With an active average population of over 1000 players, Excalibur has been around for years and offers some of the best scripting in the TBC private server scene. The caveat being that they do have a cash shop that allows for buying levels, gear, mounts, you name it. Until recently you could even use vote points for gold, thankfully they changed that which has helped the in game economy.
Wrath of the Lich King Private Servers
Warmane – Icecrown
Widely criticized as faking the population numbers on their website, you absolutely cannot deny the number of players when you're online. They have some great scripting and a really solid team of developers which makes it a great choice in conjunction with the population. They do have increased rates at x5 as well as a cash shop for levels, gold, and vanity items.
Sunwell – Angrathar
Angrathar is a new progressive Wrath of the Lich King realm, which is dedicated to the international community. The release was took place on 27th January, 2018.
Cataclysm Private Servers
Monster-WoW – Monster 4.3.4
High rate Cata server with over 1000 players online when averaged, this is the second largest by population. In addition to the x12 rates they have a cash shop with gold, gear, and levels available.
Hades – TwinStar Cataclysm Realm
Released on November 16 to a significant amount of hype, this realm is part of the TwinStar server network. Currently the one of the most populated blizzlike Cataclysm realm averaging a bit less than 1000 players online.
MoP Private Servers
Firestorm – Garrosh
Boasting more than 1000 players on average on their Mists of Pandaria realm, Firestorm offers a x5 rates PVE realm with a cash shop that includes gear, gold, and levels.
Warmane – Frostwolf
Also offering an average player base of 1000 players or more, they're neck and neck with Firestorm. Offering x7 experience rates and a cash shop with gear, gold, and levels.
WoD Private Servers
Firestorm – Gul'dan
The highest populated Warlords of Draenor private server includes x5 rates and a cash shop for gear, gold, and levels.
Legion Private Servers
Firestorm – Sylvanas
The highest populated Legion private server is a PVE realm and includes x3 rates and a cash shop for gear, gold, and levels.
WoW Freakz – Felsong
WoW Freakz Legion private server offers the following experience rates: x10 (1-90) , x7 (90-100), and x3 (100-110). English is the primary language, however they support players from all around the world.